The best films of 2018
The full poll – browse all the votes and comments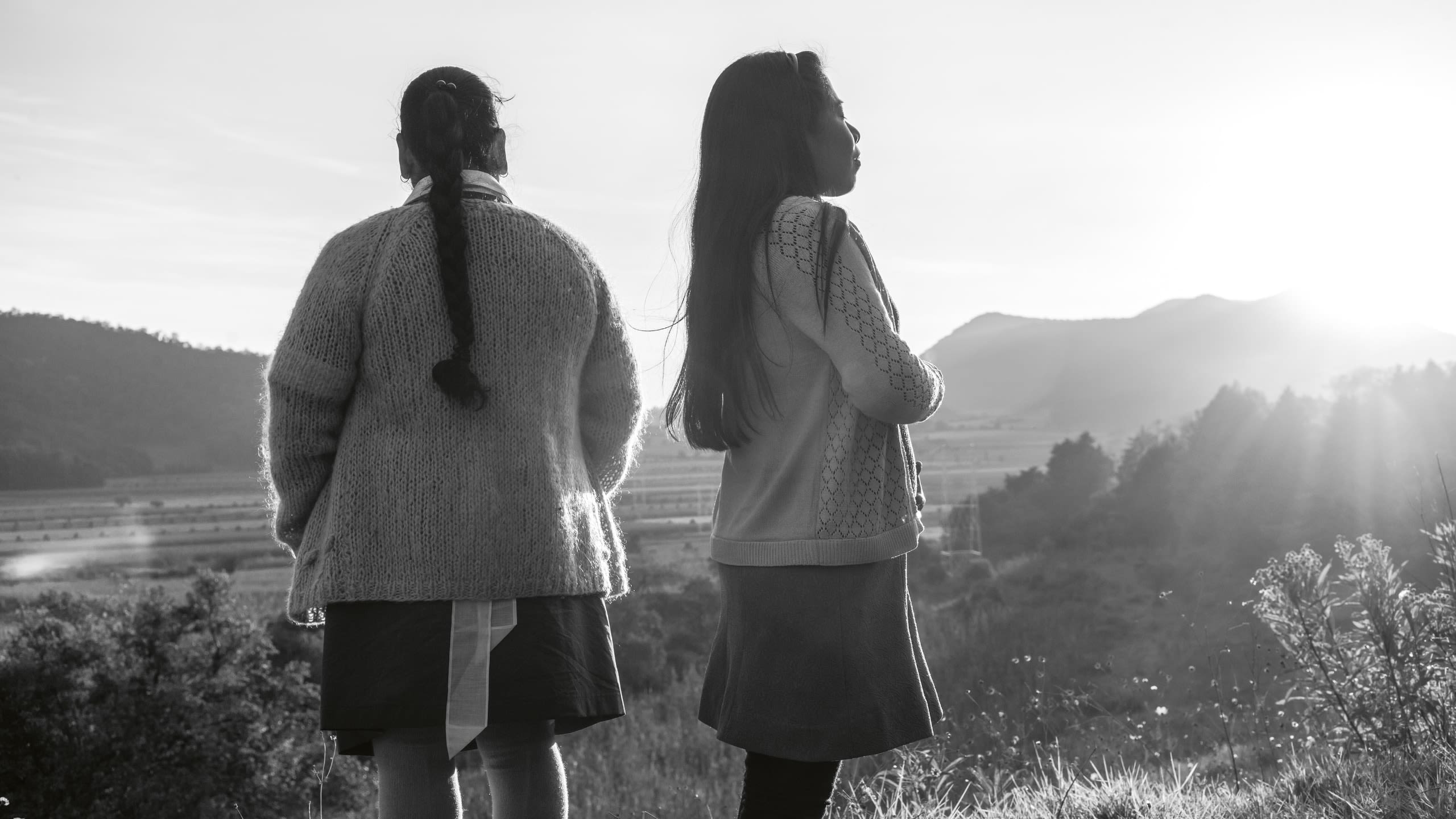 About our poll
Sight & Sound's Films of the Year polls aim to be an international gauge of the best new cinema and moving-image art being made and screened around the world.
We ask an international selection of film critics and curators to nominate the five new movie releases that made the biggest impression on them in the previous 12 months, be they films seen at festivals or released in their own country, television/streaming series, web videos or artists' moving-image works.
We leave the parameters loose because of the vagaries of 21st-century 'film' production, distribution and exhibition, as well as what our contributors are able to see when. Some films therefore split their votes over multiple years: Zama, which gained 15 votes this year, was also the fourth best film in our 2017 poll. But we hope there is a virtue in gathering a wider sample of recommendations and enthusiasms.
How to use this database
We've embedded this year's poll entries in an Airtable database. Click on one of the first row of tabs to browse by films, voters, directors, genres or countries of production. Beneath those we've embedded further different views – galleries, grids and a timeline of UK releases. You can also use the Filter, Group and Sort tools to slice the data your own way – and click on any record to open up a more detailed view. To open up the database in a new full-screen window, click the 'View larger version' arrows at the bottom right of the below view.
Read more in our January/February 2019 issue
The films of the year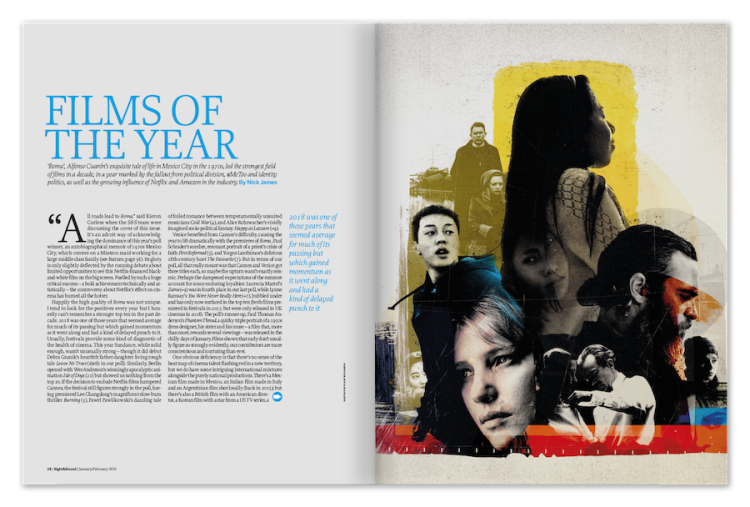 The annual S&S critics' poll uncovers the strongest field of films in a decade, in a year marked by the fallout from political division, #MeToo and identity politics, as well as the growing influence of Netflix and Amazon in the industry. By Nick James.
Plus:
The year in review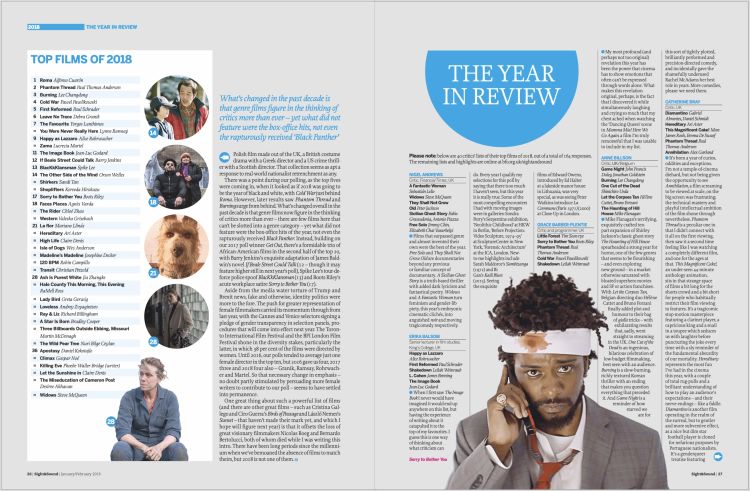 Ryan Gilbey on British cinema
Maria Delgado on Latin American cinema
Nick Bradshaw on documentaries
Naman Ramachandran on Indian cinema
Birgit Beumers on Russian and Eurasian cinema
Alex Dudok de Wit on animation
Nick Pinkerton on American cinema
Kim Newman on horror
Jonathan Romney on French cinema
Pamela Hutchinson on silent cinema
Lizelle Bischoff on African cinema
Lisa Kerrigan on television drama
Tony Rayns on East Asian cinema
Neil Young on Central and Eastern European cinema
William Fowler on British artists' film
+ 40 poll contributors' comments on the year
Plus:
Alfonso Cuáron on Roma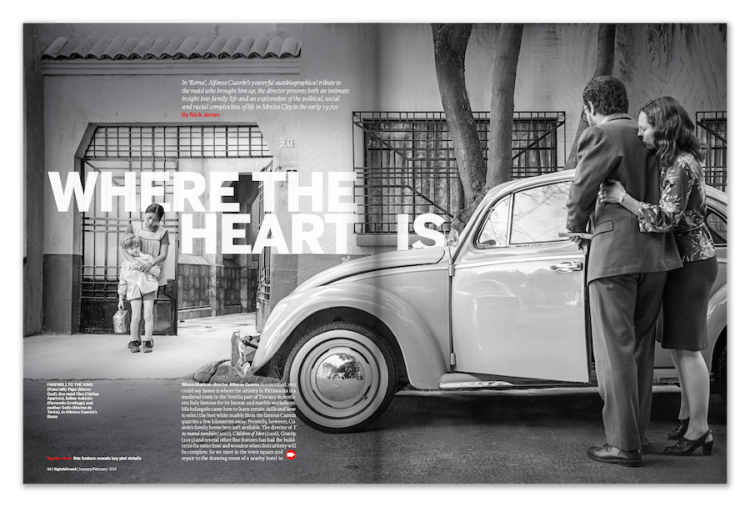 Plus: Yorgos Lanthimos on
The Favourite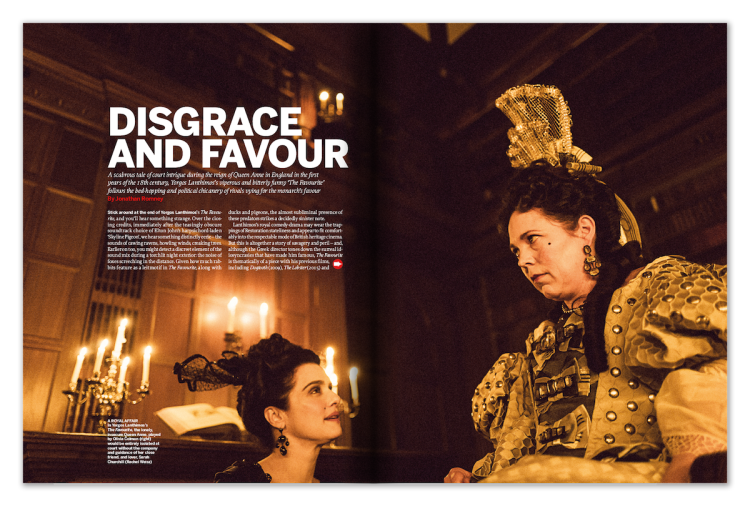 Plus:
Matthew Sweet on Stan and Ollie, Laurel & Hardy
The rise of Alexander Korda, Britain's only film mogul
Christina Newland on Robert Redford's half century on screen
RaMell Ross on Hale County This Morning, This Evening
veteran underground filmmakers Luis Ospina
William Castle on Blu-ray
Mark Cousins signs off
The ending of Black Narcissus
and much more